This is Malcolm Taylor's third show with Cricket Fine Art and we're treated to a raft of pictures, the majority of which are related to the sea. Titled Upon a Painted Ocean, the artist acknowledges a line from Coleridge's poem, The Rime of the Ancient Mariner. Malcolm's artistic process involves making intuitive marks in various media: graphite, charcoal and acrylic paint, resulting in intriguing compositions of squiggles, shapes and gestural lines. Over the past 40 years his creativity has flourished and we're delighted to have him back.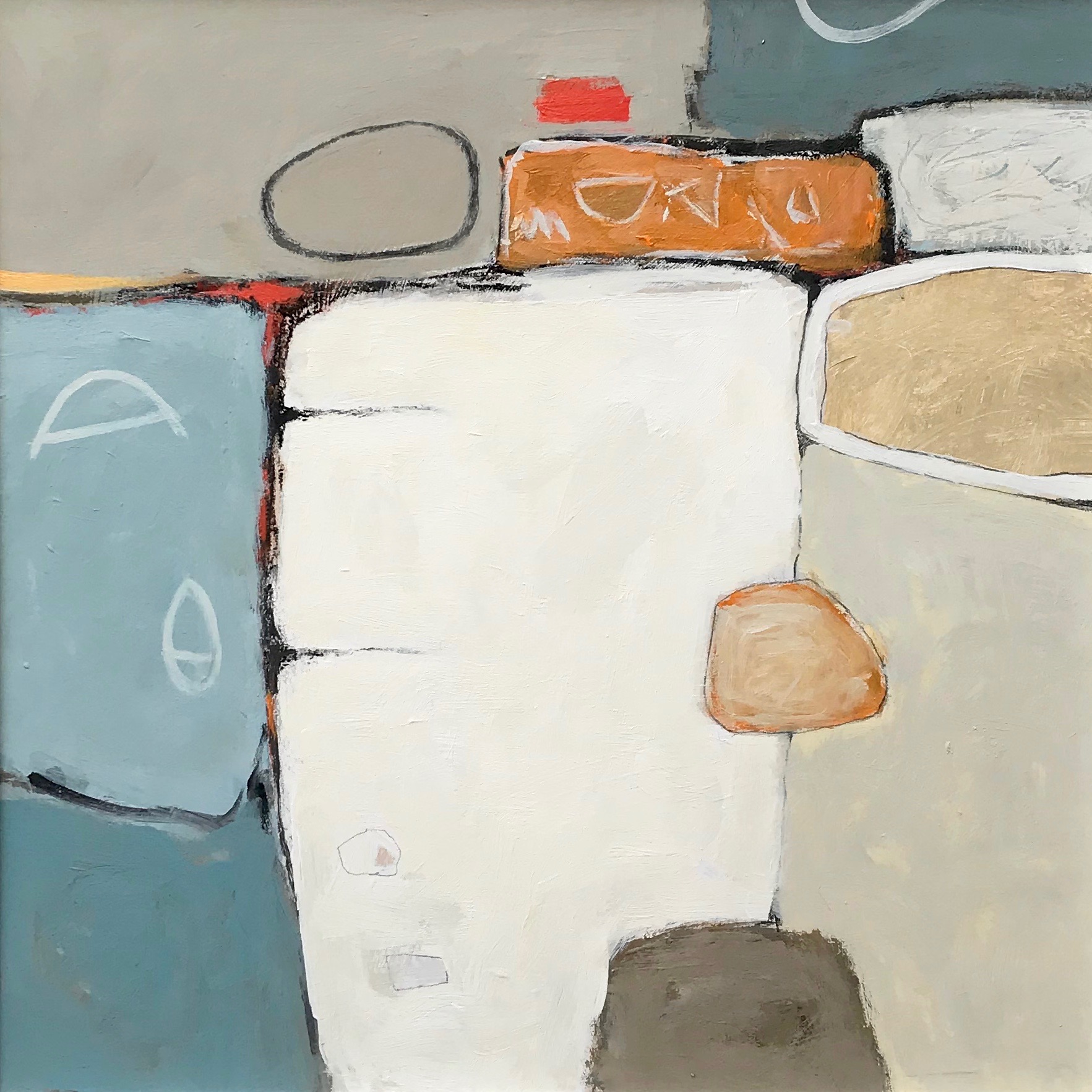 Squaring the Circle, mixed media, 50 x 50 cms
Can you remember the first painting that you sold?
The first painting I sold was probably a very loose oil painting of fields and trees in scrubland done en plein air.

Could you tell us a little about your painting process?
When I paint I rarely know what the outcome will be at the outset because I try to keep an open mind and let the painting develop freely. I sometimes use thumbnail abstract sketches from my sketchbooks as a catalyst but very soon the painting takes on a mind of its own and I have to follow its lead.

Which artists do you feel most drawn to and in what ways do they inform your work?

This is a difficult question for me as there are have been many great artists from the French Impressionists, the Camden Town group, Abstract Expressionism, The St.Ives School and Scottish Art. Of these I particularly like Paul Cezanne, Walter Sickert, Richard Diebenkorn, William Scott and Sandy Murphy but the biggest influence on my development as an artist has been the St.Ives School. Having seen their work in galleries over decades of visiting St.Ives it has had a definite influence on the development of my painting.

Is there anything that you cannot live without in your studio?
My workbench, my chair and my radio.

What's the best piece of advice you've ever been given?

Stop working on a painting before you think it's finished!

If you'd not become an artist, what could you imagine yourself doing instead?

A gardener? A poet? A ceramicist?

After three years, working towards this show, what might be your next project be?

Learning how to become a fine art printer.