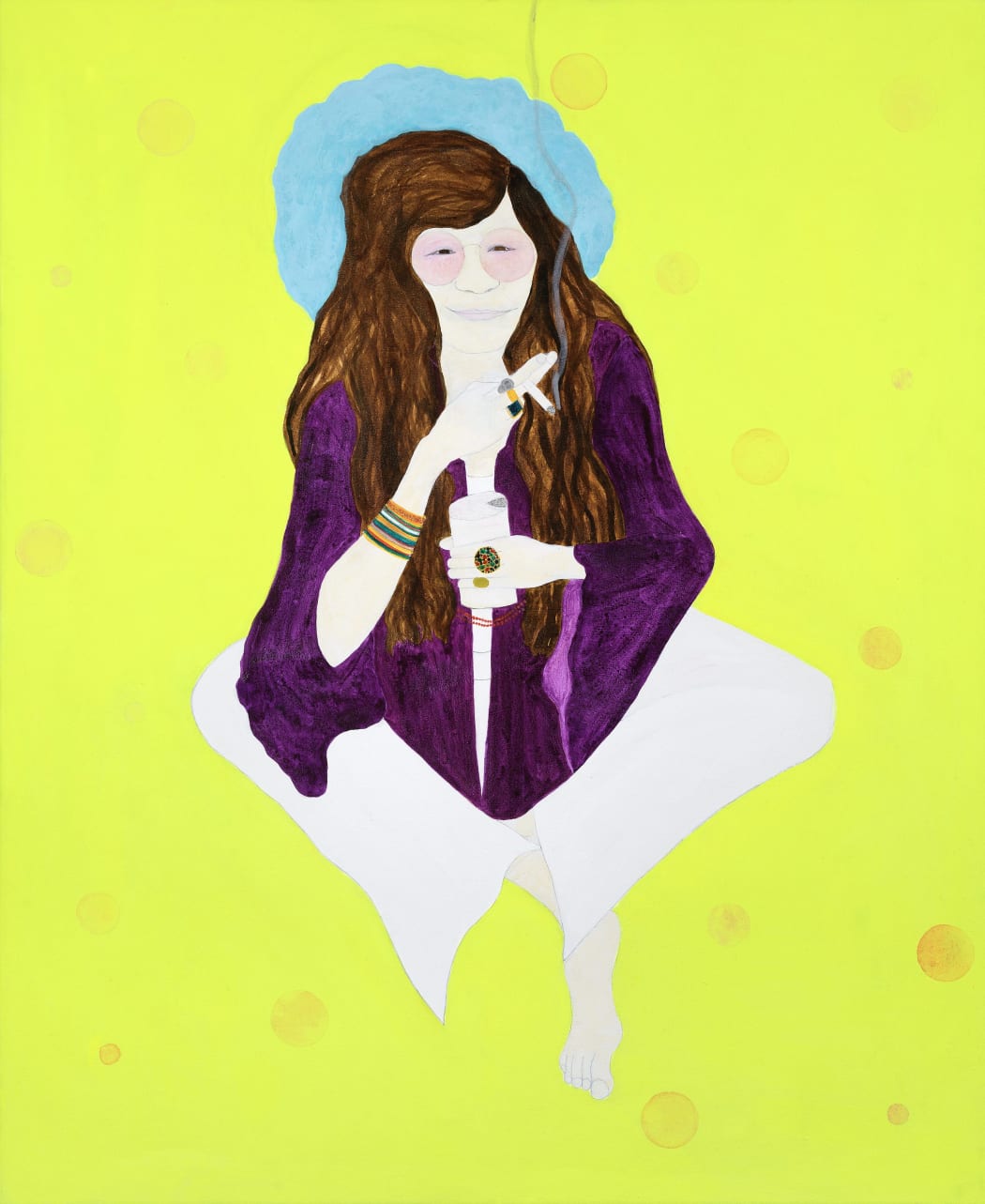 In this latest solo show Liberace I presume?, Kate Boxer brings to life an array of characters: writers, singers, musicians, revolutionaries and freedom fighters are all depicted with a combination of intellect and ingenuity. Famed for his soul music, who knew of Otis Redding's ranch in Georgia where he kept horses, pigs and cattle? At a little over 6ft 2in, the King of Soul strides towards the viewer on a chestnut horse. The Baroque composer and musician, Henry Purcell positively radiates technicoloured waves and genius, whilst Janis Joplin too is all colour – cross-legged and smoking – she rocks her pink glasses set against a fluorescent yellow background surrounded by a haze of floating pink bubbles.
Aside from the portraits, Kate has also been busy working on a number of new drypoints. Diaghilev, Spinoza and Tennessee Williams vie for attention with an alluring Diana Dors, an implacable camel, a rambunctious rhinoceros and a cow with golden hooves. Whatever next? Liberace, I presume?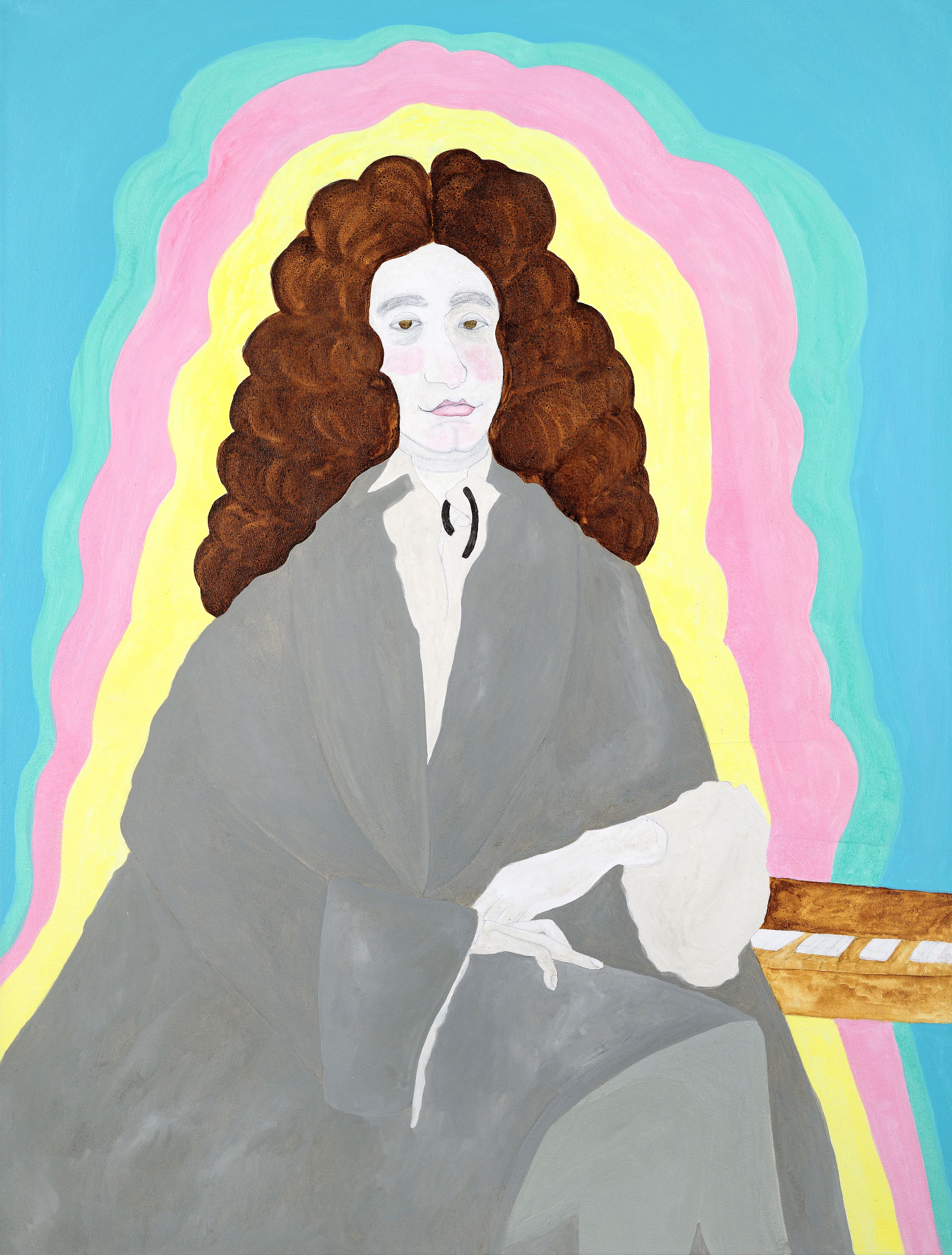 Henry Purcell, acrylic on canvas, 120 x 90 cms
Can you remember how and what you played with as a child?
Becauase I was a socially hopeless child I loved playing with my toys. I especially liked one called 'Wells Fargo'!
Throughout your career you've made prints – what is it that you find so appealing about them?
I love making them - drawing whatever it is first and then figuring out how I am going to transfer that to a plate. Then it's so enjoyable to draw it in, a neat drypoint or with carborundum, and then think how colour might come in or not - or something else ... I can't print like Colin Gale of Artichoke Studios, Brixton, London, or François Pont of Arcane Studio, Hackney, London, and I never will, so they print everything up for me with such a beautiful touch and skill. Prints are more accessible to buy because they're cheaper than paintings. Because they're reproduced they can be in lots of different places and the subjects can stay in my life, unlike paintings which can disappear and you never see again, like say Muriel Spark or Lester Young. I like the history of printing; it's a subversive medium, not that I could ever say what I do is subversive .
Can you remember the first print you ever made?
The first print I ever made was when I moved to London. There were lots of us living in the same house and my friend Marcus Rees Roberts, at that time, was head of printmaking at Edinburgh College of Art, so he gave us lessons using his press which was stored in our house. I made a print of my boyfriend, Charlie Boxer, and me on his motorbike with a bit of Charlie's poetry scratched onto it.
With your portraits does what emerges from the canvas ever take you by surprise?
Yes! Purcell for example.
In your studio which musicians, or writers (audiobooks or podcasts) do you listen to most?
I listen to things all the time. This evening it was the whole of Owen Bennett-Jones' podcast about the murder of Benazir Bhutto called 'The Assassination' - brilliantly told. This morning I played every Dusty Springfield song I could find.
Berlin-based architect Yadegar Asisi is known for his panoramic 360 degree installations – the latest one being Monet's cathedral paintings in a rotunda in Paris. Which classic painting would you like to see as a panorama instalment?
Piero di Cosimo's, 'Perseus frees Andromeda'. You will find it in the Uffizi in Florence.