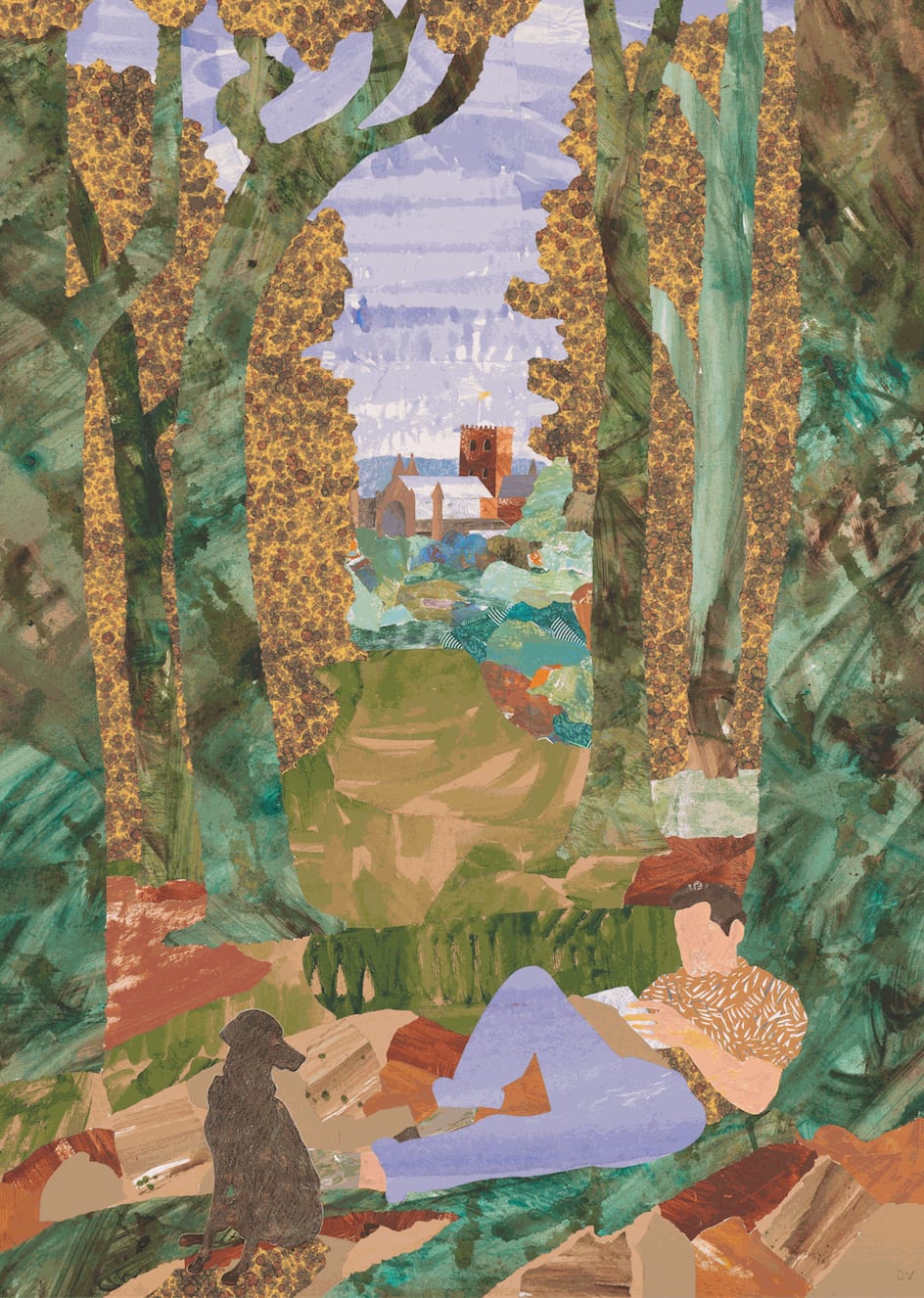 Dione Verulam's collages provide the focus for her second solo show at Cricket Fine Art; the breadth of subject matter is diverse and the artist's ineluctable interest in people is tangible. Dione breathes life into her figures through an original approach to form, paring her subjects down to their essential shapes – akin to the method of a sculptor. When not making collages (using discarded monoprints, linocuts and book-binding endpapers from her late mother's practice), Dione works with a variety of printing techniques, and occasionally paints in oils or acrylics.

From her romantic Woodland series inspired by the familiar Hertfordshire countryside where she lives, to her imagined scenes in the Auction series, there's much to entertain the viewer. With more than a passing nod to some past masters including: Nicolas de Staël, Ivon Hitchens, Howard Hodgkin and Keith Vaughan, the Auction series gives her the freedom to subtly interweave her 20th century heroes' pictures within her own. And in the Indian series, following her travels to Madya Pradesh and Neeleshwar, Dione captures the colour and warmth of the country. There are also the Nudes – the making of which Dione freely admits are challenging and fascinating in equal measure.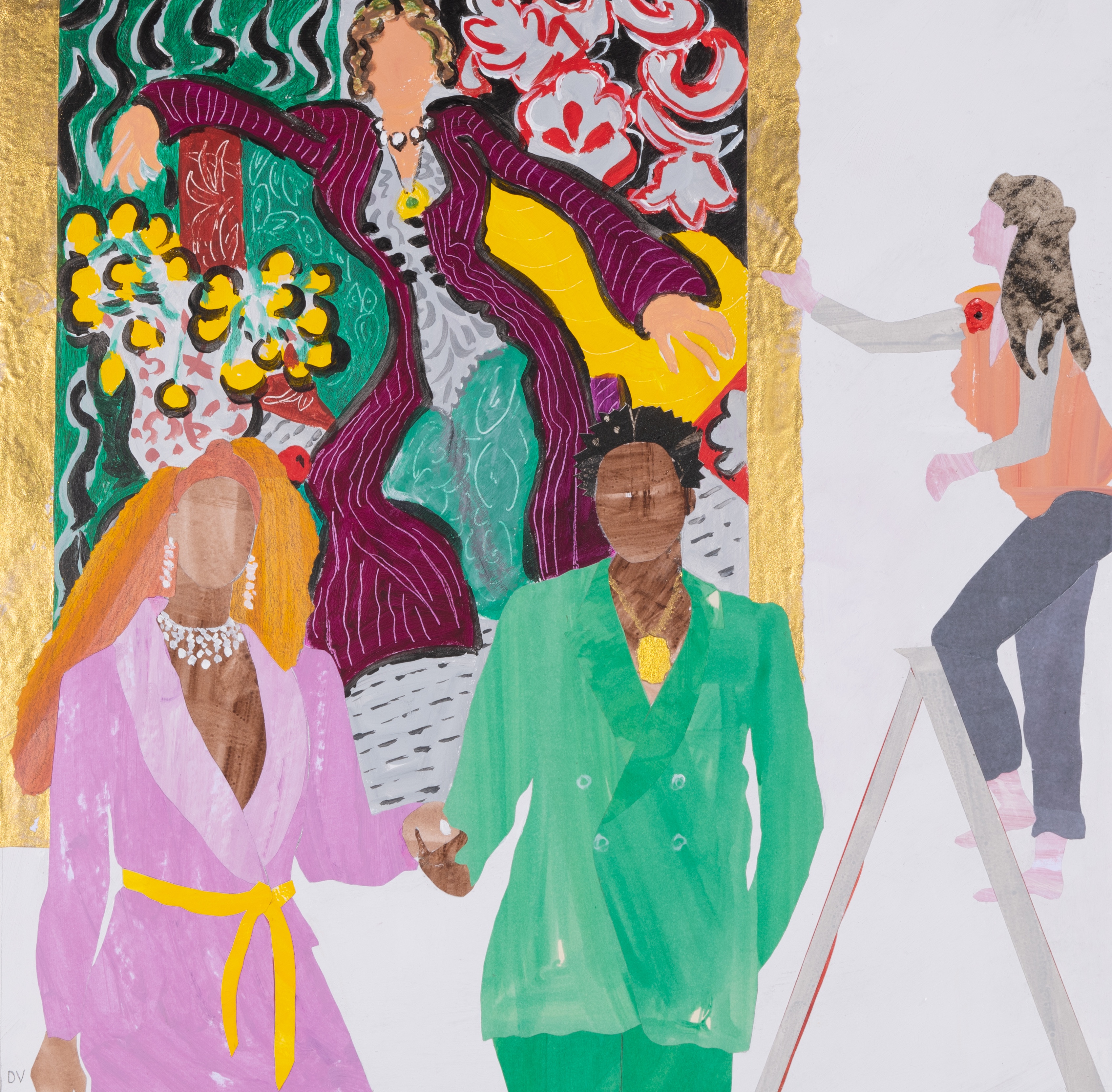 Glamour, collage, 54 x 54 cms
You began your artistic career working with your mother trading as Verona Stencilling looking after private clients and interior decorators – do you think this allowed you to have a good understanding of how to be a successful artist?
The things I learnt while working as a stenciller are that positive and negative spaces have equal relevance, that repeated lines and shapes create rhythm and that a limited pallette tends to be successful. It was a tentative start; then I realised that I must try to learn how to draw, oh it is so difficult, everyone's hand is different and mine is clumsy. Soon I found that composition comes to the rescue - if there is some structure the shapes become more interesting.
Your work is very identifiable. What led you to developing such a recognisable style?
One of the Gorhambury Group tutors introduced us to collage and we made orange and blue nudes in the crudest possible way. I was hooked; I found the cutting and tearing and the accidental shapes liberating, and my style took on a life of its own.
In your collage 'Klein Inspires Dancing' you've emulated Yves Klein's energetic International Klein Blue (IKB), patented by the artist in 1960. What colour would you choose to patent and why?
Orange. I often try and work with orange and mostly the efforts end in the bin. I love the warmth and energy of orange but it is hard to handle. I greatly admire the work of Peter Doig. He's the master of orange.
As London begins to emerge from lockdown (due to the coronavirus pandemic) can you tell us about any art exhibitions that you've seen recently?
Lockdown gave me time, without distractions, to be in the studio which was a privilege. However, I missed not seeing art for real and my first foray into London was to see work at Christie's that was about to be auctioned. There was hardly anyone there so I could stare in peace and quiet. And what a pleasure it was to see - close up - the brushstrokes, lines, colour and frames. Amongst the collection there was a cracking Yeats and a highly chromatic Chagall.