Artist and art tutor, Julia Cassels has recently returned from a painting tour in Andalucia where she enthuses about the Mediterranean light and the plethora of things to paint – from the Puente Nuovo bridge in Ronda to farmhouses surrounded by olive groves. The same could be said of Julia's decade living in the bush in Zambia, and later Tanzania, where she was inescapably drawn to sketch and paint the wildlife. And it is to Zambia that she returns every year to lead her painting safaris and re-fill her sketchbooks. In order to express the fluidity of movement in her pictures, not unsurprisingly, watercolour and ink are her preferred media although she has recently started exploring oils. When time allows, she also loves to sculpt from her studio in Hampshire.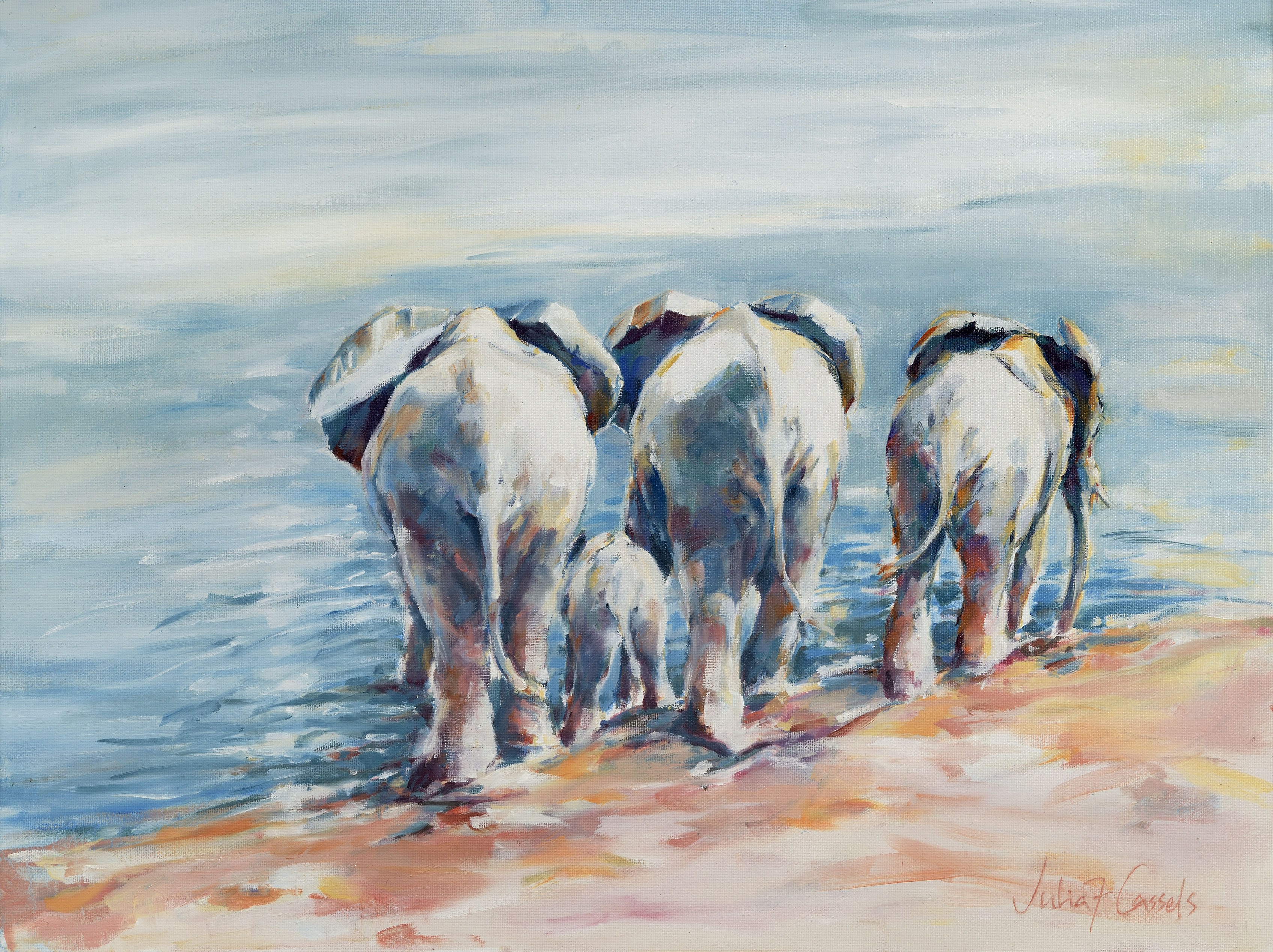 At the Water's Edge, oil on canvas, 42 x 60 cms
In anticipation of the opening of Under African Skies, Julia's second solo show with Cricket Fine Art, we had fun catching up over a brief Q & A session.
Having spent so much time in the bush, do you perhaps have a favourite animal to paint?
It's always the elephant! I love to capture their volume, power, movement and dignity.
Sketching and painting wild animals in their natural habitat must need careful planning – have you had any particularly hair-raising moments?
Many! Once, I was collecting supplies from our other camp in the open game-viewing vehicle and on my way back I came across a lone female elephant on the track ahead. The afternoon light was perfect and it was too good an opportunity not to stop and sketch her. I was so engrossed in my drawing that I'd failed to notice the rest of the herd silently emerging from the bush. Suddenly, I was surrounded … and then the vehicle wouldn't start!
Do you have a favourite representation of an animal in art?
This is a difficult question to answer but it would have to be a sculpture by Mark Coreth or Dylan Lewis. The rough textural feel of their sculptures perfectly captures the incredible energy and vitality of the animals.
Can you tell us a little bit about the teaching that you do and do you believe that everybody has the capacity to be artistic?
I run my own watercolour courses and workshop days in the UK alongside leading painting holidays in Europe and Africa. I teach largely by demonstrating; showing techniques, explaining the uses of colour, tone and contrast and, importantly, how to leave areas unpainted. I believe that everyone has the capacity to learn to draw and use paint but only up to a point. Thereafter, one needs passion and perhaps an innate skill or understanding to reach the next level.
What would be your best piece of advice to an aspiring artist?
To sketch as much as possible.
Does anyone else in your family paint or have the artistic gene?
My father painted watercolour landscapes whenever he had the opportunity, mostly when he was on leave from the Navy, and my brother's a photographer.
Over the years you must have accumulated a lot of painting kit - what is your most indispensable or treasured part of it?
Without doubt, it's my watercolour paintbox that my father gave me for my 12th birthday. It comes with me everywhere.