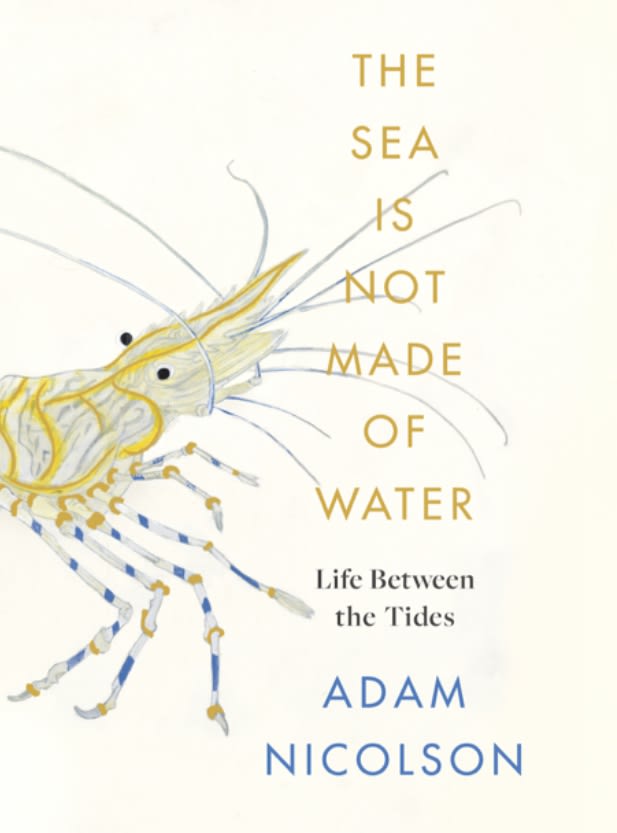 THE SEA IS NOT MADE OF WATER: LIFE BETWEEN THE TIDES
ADAM NICOLSON
ILLUSTRATIONS BY KATE BOXER
The sea is not made of water. Creatures are its genes. Look down as you crouch over the shallows and you will find a periwinkle or a prawn, a claw-displaying crab or a cluster of anemones ready to meet you. No need for binoculars or special stalking skills: go to the rocks and the living will say hello.

Kate Boxer's latest series, made in conjunction with a book of the same title written by Adam Nicolson, explores the halfway world of the shore, a halfscape that reverberates with its own unique lifeforms. She comes close to the inhabitants of the pools and looks at them with the intimate gaze they deserve, animating them, respecting them, giving these smallest of beings all the dignity of their own self-possession: her prawn seems to have floated in from Hokusai's seas, a zen scholar of the shallows; her green shore crab might have drifted in from the outer reaches of the galaxy; her periwinkle trundles through life like a Dickensian beadle, cigar in hand, making for the brandy; and her ruby-radiant sea anemone is so full of life it looks as if it might be its own planet.

Alongside these wonderfully seen animals are the philosophers of the shore, figures who have found in the coming and going of the tides some reflection on the nature of being. Virginia Woolf sits patiently alongside a storm-tossed Heraclitus; Martin Heidegger, in a fetching pink-rose suit, is fixed in an enigmatic gaze; Isaac Newton understands; Philip Henry Gosse remains anxious and troubled by the mutability of things; while the limpets, starfish and topshells of the intertidal around them maintain their imperturbable and everlasting way through life.