We sat down with Paul and discussed the influence on his works and more.
What inspired you to become an artist?

Being an artist chose me really. From an early age I loved painting, drawing and
creating. I remember, at the age of nine, one of my paintings being liked by the
school. I had painted a tiger and it was the first time I received any praise for
schoolwork, that's for sure!

In my teens this love of painting carried on throughout my 0'levels, A'levels and then
onto art college at 18. I did this for about a year before I decided that I needed to
travel; I did not want to be tied to education, so off I went with a Mini, a tepee and
finally a bus. In Europe I did street painting as a way to earn a living. I copied Pre
Raphaelite paintings onto canvas and invited the public to drop coins into a hat. I did
this for five years after which I then decided it was time to head back to art college.
This time round I loved it and soaked up everything possible. I was mostly painting
nudes and the learning curve was steep. This led to my move to Falmouth in
Cornwall where I did a Fine Art degree – I passed with a 2:1 in painting and a 2:1 in
surfing.

Soon, it was time to go out on my own and hit the galleries. It took a while but
gradually the shows started to happen. I did some more travelling and the shows in
the Middle East became a part of my life.

Cornwall was and still is a great source of inspiration for my work. I love painting on
location; a winter's day on Sennen beach with the waves pounding in certainly gets the creative juices flowing. Winter or autumn is a good time to paint for the drama in Cornwall. I find the sea provides all the creative energy I need to work on location – it requires a lot of physical expression.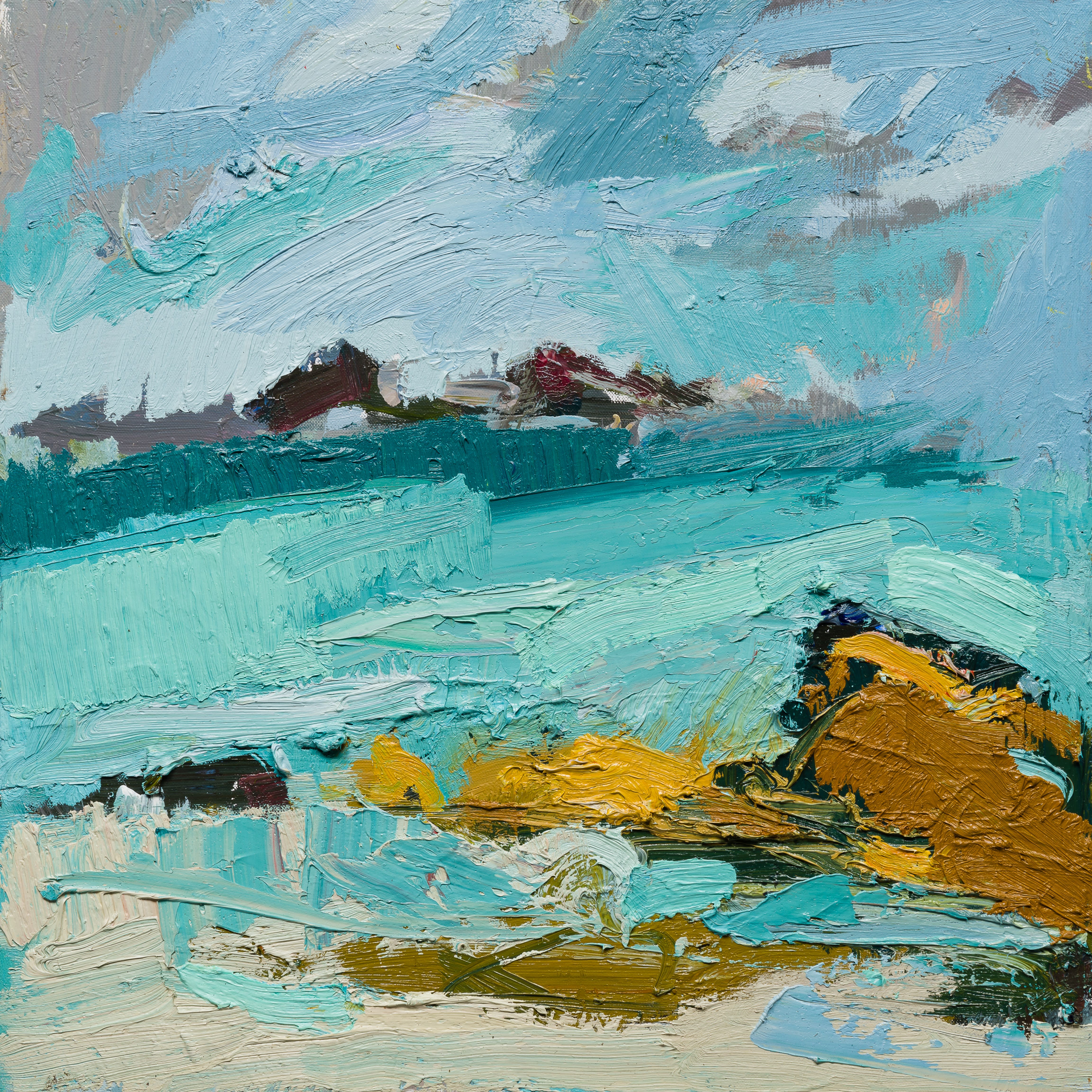 Priest Cove Cape Cornwall
Please tell us more about your choice of materials and why you chose to
become a painter?

The materials I use range from oils, to acrylics, to watercolours and pastel depending
on how I feel when I wake up. All my landscapes start on location as I feel it's
important to get the atmosphere of the day onto the canvas. Whether it's cold, windy,
sunny or wet this all becomes part of the work. Sometimes the paintings are finished
on location, or if I'm back in the studio I have a quiet time in which to decide whether
any more painting needs to be done.

My work becomes quite textured as I search for the rhythms in the paint and the
composition of the piece. For me a painting is not just about the final image but the
way the paint is applied – this is where all the feelings of the artist are contained.
When you look at the works you have to look close as well as far.
A Walk After The Storm Has Passed

What other artists interest you?

Frank Auerbach's vigorous paintwork is of endless fascination to me – the sheer
physicality of it is astounding. And, also J M W Turner's late period for his openness
and abstractness.

How do your works come together?

One of the works from this show entitled 'Warm Sea Winds' I started on location at
Sennen Cove using acrylic paint then later in the studio I added the oil paint.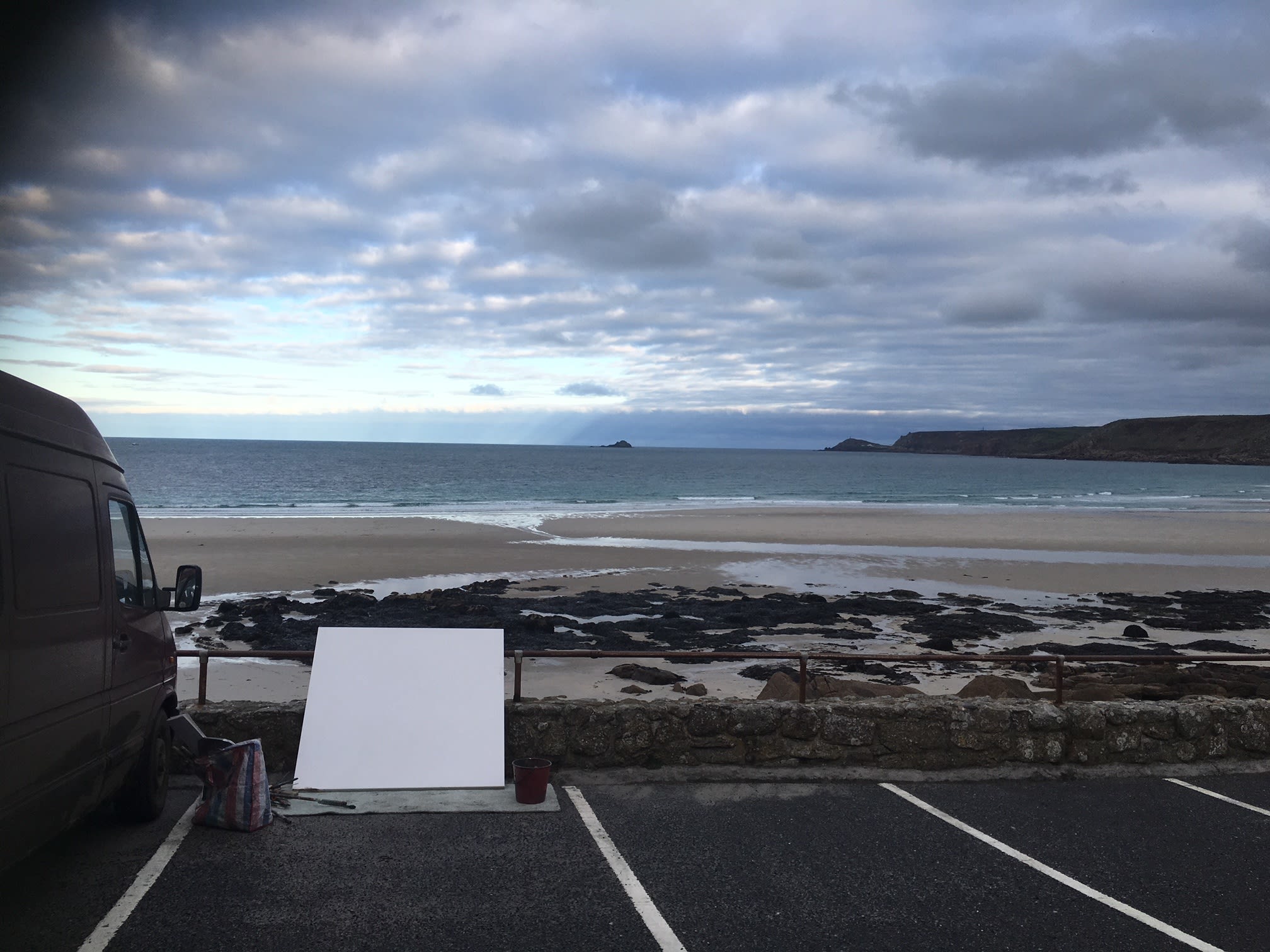 For more information on Paul and his works contact our London gallery via info@cricketfineart.co.uk or 020 7352 2733. You can view the official exhibition catalogue here.