JO VOLLERS only came to painting in her 50s and has been a popular addition to our list of gallery artists. For the first two decades of her life she lived in Australia and this is evident from her love of colour and light. She is an Associate of the South West Academy and paints in both oil and acrylic.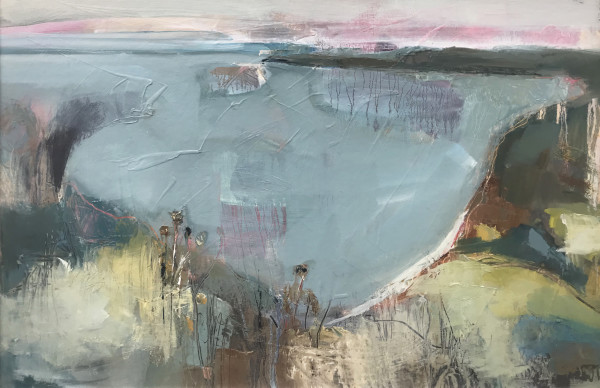 East Devon Coast (London Gallery)
Signed
Oil on Board
20 1/8 x 29 7/8 in
48 x 53 cms
(Framed size: 65 x 90 cms)
(JV0021)
FI KATZLER paints the landscapes in and around her home in Aix-en-Provence. Working mostly 'en plein air' she likes to paint energetically using bold brushstrokes and vivid colours (Van Gogh is a tangible influence). Fi says, "I try to paint fast in order to bypass the intellect. If I allow my logical mind to take over when I am at work, the painting can become static and less vibrant."
West Wittering (London Gallery)
Signed
Oil on Canvas
23 1/2 x 32 in
59.7 x 81.3 cms
(Framed size: 78.5 x 99 cms)
(FK118)
KEITH PURSER works principally with mixed media on board. He was born in Kent and attended the Sidcup School of Arts in the 1960s. He had his first one man show in 1989 at Jonathan Clark & Co.
China Tide, 2004 (London Gallery)
Signed
Mixed media on board
35 x 35 in
88.9 x 88.9 cms
(KP022)
KATHY MONTGOMERY graduated with a BA from the University of Cape Town after which she moved to London in 1968 and she has been painting ever since. Her aim is not to represent exactly what she sees but to develop her painting into a compelling composition by bringing the finished work to a harmonious conclusion.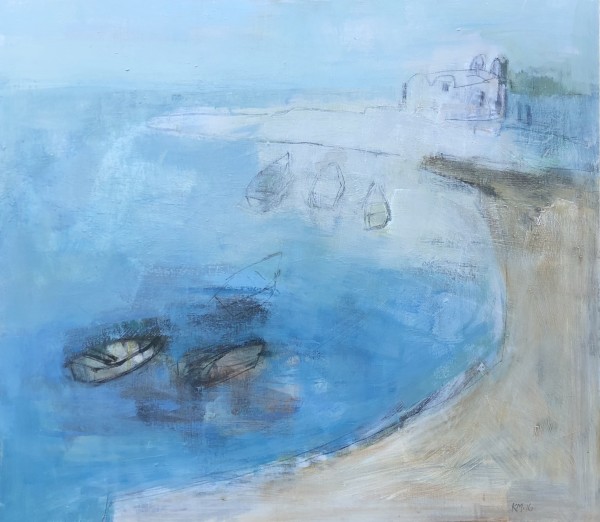 Mykonos III (London Gallery)
Signed
Oil on canvas
31 1/2 x 35 3/8 in
80 x 90 cms
(Framed size: 101 x 111 cms)
(KM065)
KATE RHODES takes her inspiration primarily from the landscape and her paintings convey the pure enjoyment she gets from being outside. Kate says, "I am not interested in just painting a view. For me a painting is about finding the balance between the subject and the abstract."
Summer Breeze (Hungerford Gallery)
Signed
Oil on Canvas
29 7/8 x 40 1/8 in
76 x 102 cms
(KR035)
RICHARD COLSON is a contemporary British painter with a BA in Fine Art (Painting) from Goldsmith's College (1973-77). In 2017 he was awarded first prize in the Fresh Paint competition at Picton Castle.
The Campanile, Venice from Giudecca (London Gallery)
Signed
Oil on canvas
36 x 48 in
91.4 x 121.9 cms
(Framed size: 111 x 141.5 cms)
(RC014)
CLARE GRANGER began her professional career whilst still a student at Cambridge and it was here that Clare had great success selling her drawings to the tourists who roamed the streets. Since those halcyon days, Clare has carried out numerous private commissions and exhibited widely.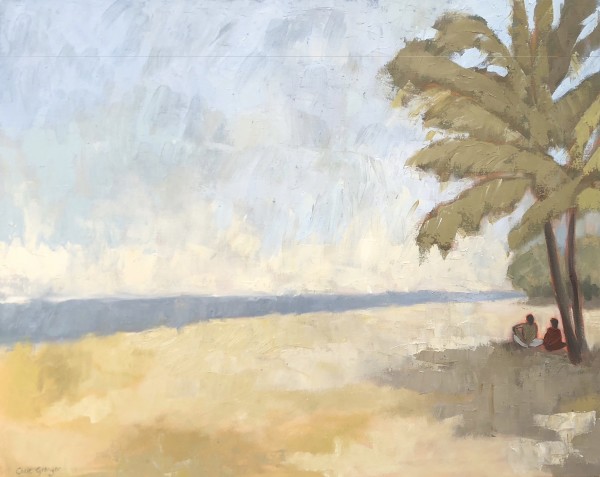 Sitting in the Shade (Hungerford Gallery)
Signed
Oil on Canvas
31 1/2 x 39 3/8 in
80 x 100 cms
(CG035