When did you first realise that you wanted to start making paper collages and why do you think you find this medium so appealing?
When I was stencilling for clients I became used to wielding a knife, collage was a natural progression as cutting and tearing are the foundation for collage. I love the freedom of clumsy shapes with more precise cutting for detail.
Auction rooms are frequently full of high drama and tension? What do you think it is that draws you to these?
The drama of auction rooms is exciting. I am most interested in the body language of people in a crowd; gestures are revealing. By concentrating on the Auction motif I have been able to look closely at some of my favourite works in order to reveal them in the scene and that has been an intense pleasure.
You work with a huge variety of different types of paper for your collages. Do you have some kind of filing system and perhaps you could tell us a little bit more in general about your creative process?
Having decided on a composition I then think of a palette. I keep masses of paper, all of which I have painted, any rejects go into the paper store, ditto prints which have not quite worked. In addition I have bookbinding endpapers from my mother's studio. I lay out all the colours I will use and I work on a large table surrounded by pieces of paper - it looks like a muddle but somehow there is a method in the madness. Having glued a section I then press it down with books and weights.
Fishing, riding and skiing, as illustrated in your linocuts, are these all common pursuits for you (when not in your studio)?
Apart from the Auction series, I like to paint what is most familiar to me - the family and our activities together, some of which are sporting. Skiing is a top favourite and travelling brings many sources of inspiration. In addition, when not in my studio I like gardening and golf.
If you could take the credit for a great work of art please could you tell us what it would be and why?
This is a difficult question, there are many works in my head, a Peter Doig wintry painting would be a strong contender, I love his slippery paint and the 'lost and found' imagery. I would like to be less literal and he is a good example of less being more.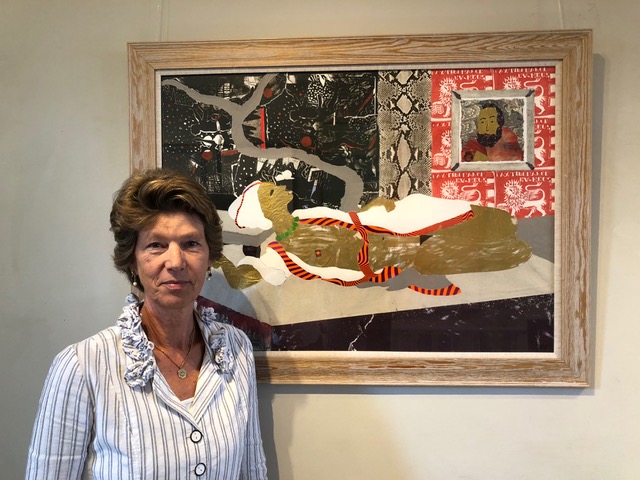 Dione Verulam alongside Adam and Eve, collage, 69 x 95 cms