Fi Katzler's second solo show with Cricket Fine Art is a paean of praise for the beauty in beaches, mountains, olive groves, lobsters and more. Her lively canvases, often oozing with paint, create an atmosphere of uninterrupted joy. With a fondness for confronting nature directly, Fi paints 'en plein air' which gives her work an innate vibrancy.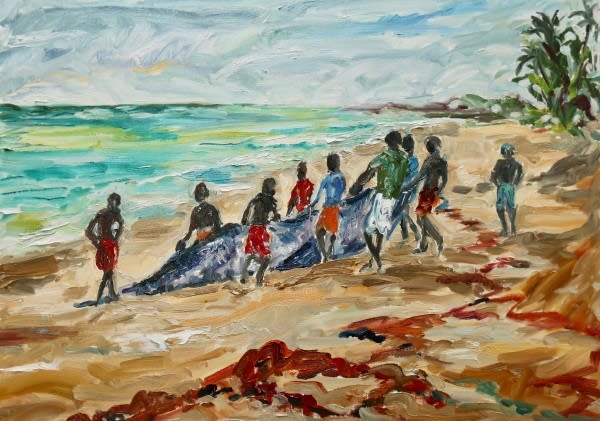 Nets near Galle, oil on canvas board, 50 x 70 cms
On a beautifully sunny Valentine's Day, and bearing traditional, almond-shaped Aix-en-Provence confectionery, Fi Katzler came into the London gallery. A cup of tea and a few Calissons (the biscuits) later, we settled down to ask her some questions:
What first inspired you to paint?
As a child, I loved being creative and was always wanting to make, mould, draw and paint. I grew up by the south coast of England and was inspired by the ever-changing tidal coastlines and sailing boats.
How would you describe your work – do you see yourself as predominantly a landscape painter?
I would describe my work as expressive and impressionistic. Working with oil paints also involves a good deal of organisation; I will spend quite a while preparing my palette so that, by the time I'm ready to paint, all the colours are in front of me - rather like the keys on a piano which I can then play. I do think of myself as being predominantly a landscape painter - particularly as I love to be surrounded by nature.
'Plein air' or the studio? Can you describe a typical day? Is there anything that you can't live without?
There is something almost spiritual about painting 'en plein air'. Living in the South of France allows me to enjoy the sun on my back, a gentle breeze rustling the leaves and the pervading smell of wild thyme - and it is through being connected with the elements in this way that I am able to translate all of this onto the canvas. That said there is something equally wonderful about being tucked away in my studio and focusing on painting a still life.
Preparation for a typical day of painting outside begins the night before when I make up my palette and put it in the freezer overnight. "Yes darling (to my husband) we need to buy a small chest freezer just for my palettes!" My painting buddy and I set off around 8am, before it gets too hot, with the car packed up with paints, canvases and turps at the ready. Driving around, we will scout out possible motifs to focus on: lavender fields, sunflowers, poppies or a coastal village. We will often re-visit the same place later on in the day to view it from a different angle and also to appreciate how the light will have changed. Painting outside can be tricky and, if the mistral is blowing, we often have to anchor the easel down with a heavy rucksack.
The heat of the sun can be intense and therefore a parasol (my 'Best Brella') is obligatory. My brother, who can make anything, has made me a wonderful wooden box with pegs in order for me to transport my wet canvases home in the car without getting paint everywhere.
Which artists are you instinctively drawn to and why?
Aix-en-Provence was the home of Paul Cezanne and I am continually inspired by his work. As both Matisse and Picasso said, he is "the father of us all". Van Gogh's distinctive and very deliberate use of complementary colours along with his expressive brushwork is a triumph. I also love studying the work of the Impressionists, in particular Claude Monet and Berthe Morisot.
What has painting given you?
Painting is a great escape from the noise and the news, along with the hustle and bustle of life – it gives me space to relax and the freedom to express myself.
Despite having lived in France for over a decade, we rather suspect that you're an Anglophile at heart. Do you agree or disagree?
I love living in France - it never tires - from coast to mountains, lavender to sunflowers, snow to lagoons. However, I am an Anglophile at heart – with two grandchildren living in the UK and the ease of flights from Marseille to London I can hop from one to the other experiencing the best of both worlds. Such a blessing!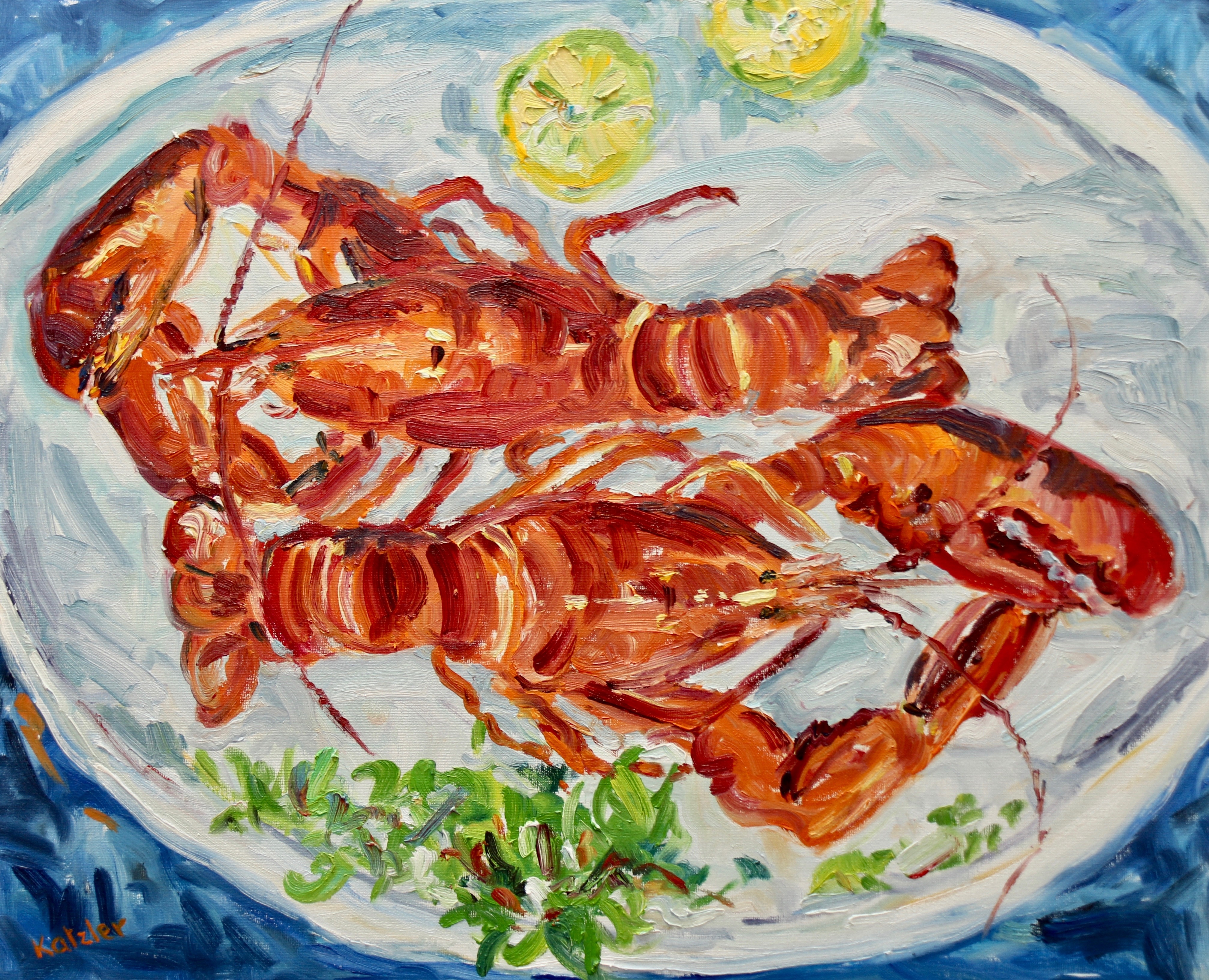 Lobsters, oil on canvas board, 50 x 61 cms