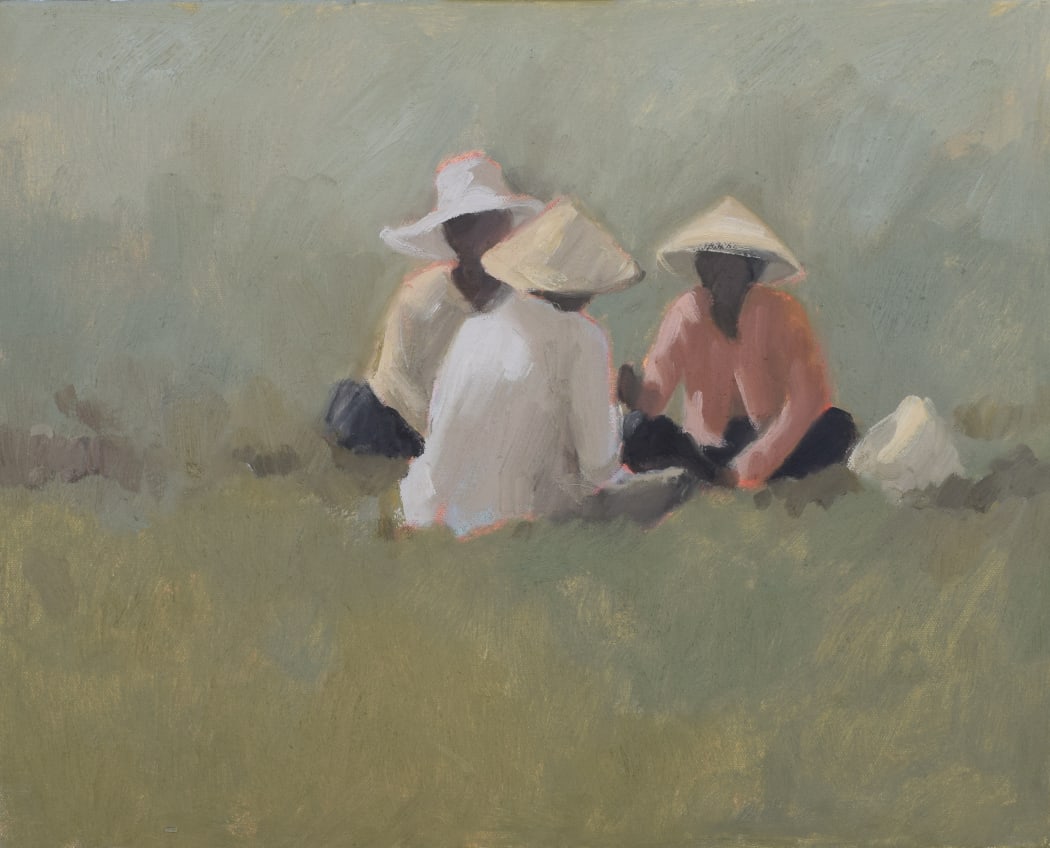 Having trained at the Charles H Cecil Studios in Florence, accomplished portrait artist Clare Granger has chosen to focus on elements of line, colour and form. Following her recent travels in the Far East, she has successfully combined landscape painting with figurative narration in order to give greater meaning to her pictures: figures paddle a canoe down-river, a goat herder tends to his flock and tea pickers bathed in dappled sunlight gather in the field wearing conical coolie hats. Clare's aesthetic oil paintings are deservedly popular and touch upon the everyday joy of life when travelling in the East.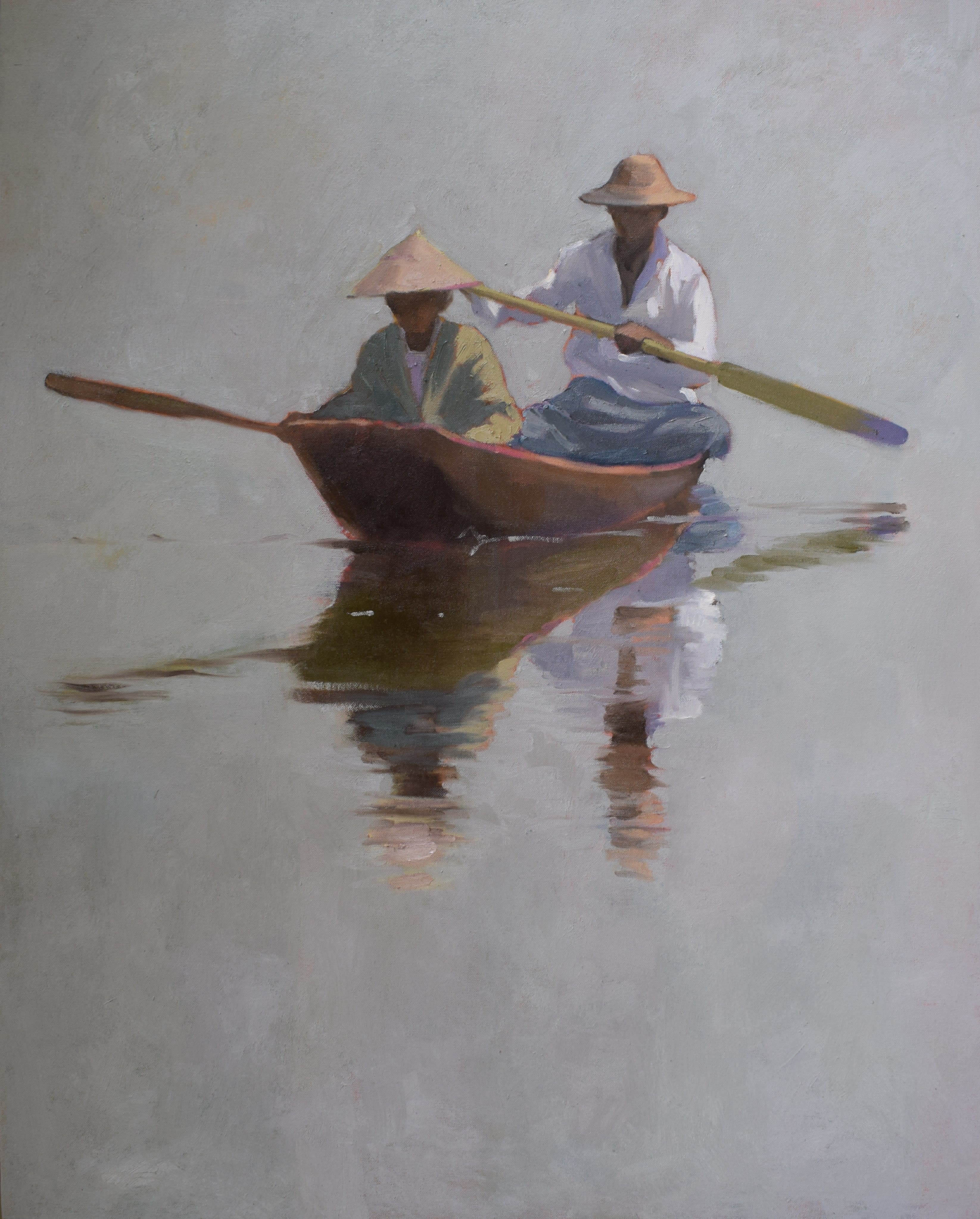 Two in a Canoe, oil on canvas, 100 x 80 cms
In the run-up to Clare's second solo show with Cricket Fine Art, we found the time to ask her some questions:
We've heard that you first began painting as an undergraduate at Cambridge - can you tell us a bit more about this time?
I think that I started well before that really as my mother was a painter and so I grew up following her, modelling at her art classes and having a go with her paints. It was at Cambridge that I first sold my works as I found myself selling drawings to passers by.
Your love of the Far East was beautifully illustrated in your first solo show with Cricket Fine Art (Glimpses of India, 2017). What is it that draws you to the region?
I am totally entranced by the atmosphere of those Eastern countries which is so very different from home. I have a huge fascination for seeing how people live their lives in different parts of the world. The colours, heat and light of the region have captivated me. From the people who live their lives on water to those who live with elephants - I am equally inspired to try to capture some essence of the impression they make on me.
Can you tell us a little bit more about your painting process - with quite a lot of travel involved, do you find that you work mainly from sketchbooks?
I am always excited to find a sketchbook for my trip from the country I am visiting. I was so lucky in Delhi to find, on my first afternoon, a gorgeous camel leather-bound book with handmade paper. The paper even has little flowers and stalks in the weave, although it was a little like painting on kitchen roll. I am not always this lucky and my sketchbook from Burma is a child's pad which I have covered in bamboo. My sketchbooks become my most treasured possession and the very best reminder of my stay in the country.
Do you have any particular rituals or routines before, during or after a day of painting?
I do have a routine which involves porridge for breakfast and then a morning in the studio with Griffin the dog. She and I then go for a long walk at lunchtime. She is very quick to pick up on signs that the painting session is over and becomes quite restless if I hesitate and decide to do a few more brushstrokes. We return to the studio after lunch until the mammoth brush washing performance at about 5pm. I am quite a creature of habit so most working days go like this.
Is there a colour that you can't live without?
That is very difficult as things do ebb and flow but I am very fond of raw umber.
On his peregrinations as an artist, Howard Hodgkin amassed a famous collection of Indian paintings; is there anything that you've collected on your travels?
For some reason I am very keen on the look of washing hanging on washing lines. I have amassed over many years a large collection of images of washing from all over the place. I am not sure what, if anything, I shall ever do with it!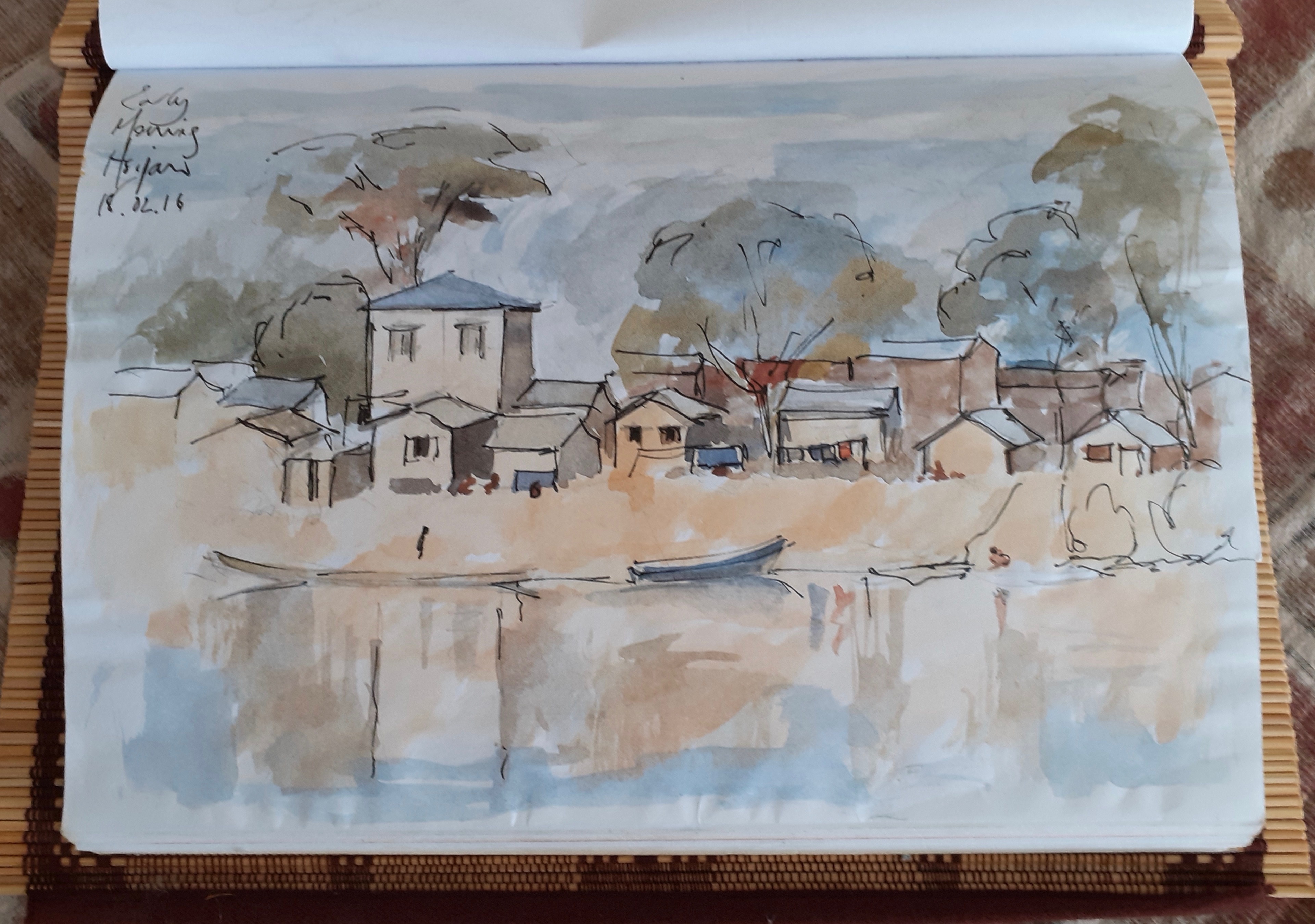 A page from one of Clare's sketchbooks