Most days, Felice Hodges can be found working from her Dorset studio. Two years have elapsed since Felice's first solo show with Cricket Fine Art (Imagined Spaces, 2017) during which time her work has taken on a newfound sensitivity. Despite often being large in scale, there is an intimacy to her abstraction and a poetry in the everyday items that emerge from the pictures. Illuminated by her softened tonal palette (unbleached whites and blends of grey and beige) vases and vessels are seamlessly integrated into balanced compositions. This exhibition titled Inner Sanctum brings together 39 new paintings on paper, canvas and panel, about which there is an intriguing aesthetic. Its themes explore aspects of the artist's psyche, inviting the viewer to engage on a more personal level with the work.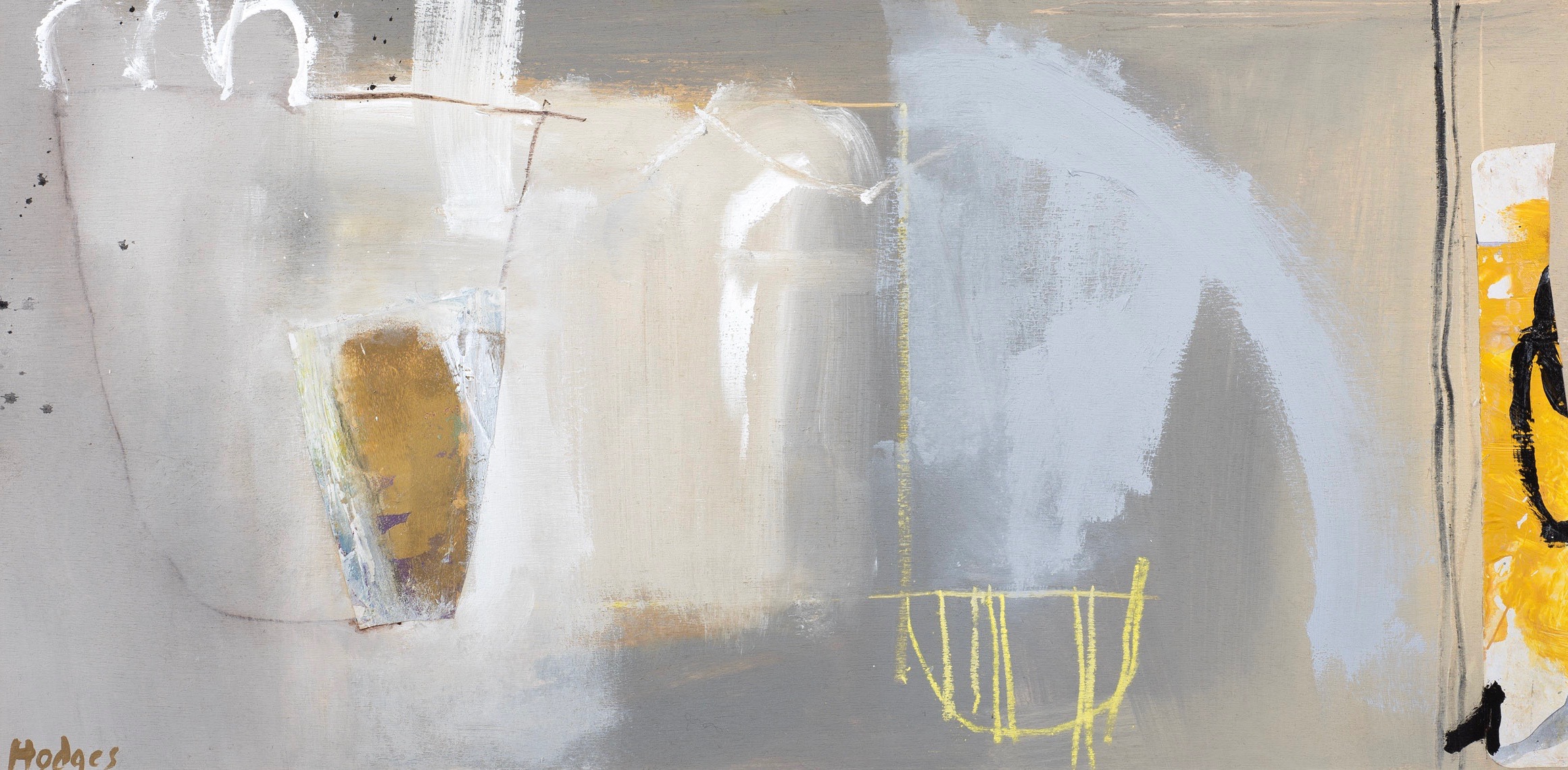 Three Vessels, mixed media on panel, 30 x 61 cms
We sat down with Felice to ask her some questions ...
Can you remember what first motivated you to become an artist?
When I was a child, we lived just outside of New York City where my father worked. On weekends, he would bring me to the museums and commercial art galleries that he discovered - among them, places specialising in pre-Columbian pottery, American naive art, German expressionism and abstract art. I was drawn to all of these and many more, and I couldn't wait to get home to create my own paintings inspired by what I'd seen. These early encounters in a city overflowing with vibrancy and huge creativity had an enormous impact on me. I felt as if I was part of something special and lucky to be introduced to an art world of fascinating people and images. This was the 1960s and there was a new sense of freedom and rebellion in the air.
What is it that informs your work and how does a picture typically begin?
For me, art has become an almost daily practice. I like to work in the afternoons and early evenings which gives me a chance to think about what painting I want to work on, or make from scratch. I will probably have certain colours in mind, and my mood will always dictate where I want to 'go' that day in terms of scale and composition. I like to be bold; experimenting and taking risks is part of my nature. I like to feel uninhibited at the beginning of a painting in the hope of making a better, more honest picture. I think what most informs my work is the idea of staying true to oneself. However, with this freedom of self expression comes discipline and I don't think you can create something great unless it is carefully thought about and edited.
There are elements of collage in your paintings; can you tell us a little bit more about this aspect of your work?
Since seeing Matisse's paintings as a child, I have always loved collage and all the endless possibilities it offers. Cutting out shapes and applying them to the surface is only one aspect of the process. I see it more as using fragments of memories, and I have a library of painted scraps and doodles saved over the years from previous times in the studio. I'm also very interested in sculpture and bas relief and have made many pieces myself. Of course, collage permits one to create different textures and other surface variations so that the work appears less two-dimensional. Sandra Blow is a wonderful example of this technique.
Does the environment you're working in affect the way you paint?
I'm lucky enough to live in a very rural part of Dorset surrounded by fields and farms, but I also have a working space in south London so I benefit from the contrast of an urban buzz with a much quieter retreat. I get energy and inspiration from both places and love the challenge of incorporating these two separate aspects of my life into my work.
Do you find that your feelings are encoded in your work?
I am aware that there are recurrent motifs in my work that seem to emerge of their own will! Vases, jugs, chairs and tables are frequent subjects, sometimes arranged formally or otherwise randomly 'floating' within fields of colour and space. I don't consciously associate these objects with particular feelings though I think my choice of colour can reveal certain moods. I think blue is a very cerebral colour and when I use it, I am in a more contemplative state of mind.
It is sometimes said that one needs three things for painting: the hand, the eye and the heart. Do you agree?
I would say all of those things with the addition of EARS! I always listen to music when I work ... great jazz, soul music or Beethoven and Bach. The music helps me to 'free-up' and worry less. It gives me a sense of pace, rhythm and 'other worldliness' which I think is particularly fundamental to abstraction.