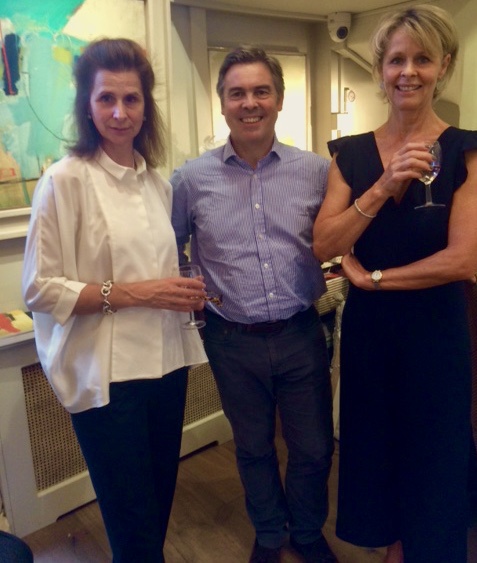 Chloe Lamb (Right) at the Opening of her exhibition with Jane Prenn and Hugo Pratt
On the eve of the opening of Chloe Lamb's final solo exhibition at Cricket Fine Art, I had the chance to sit down with her and ask her how she started painting and the techniques she uses.
Something that I was not aware of is that she began painting commissions of friends dogs. Then she held three of her own exhibitions of figurative work between 1995 and 1998 before joining Leslie Pratt, the owner of Cricket Fine Art.
There are many artists that Chloe admires and the first that sprang to her mind were Richard Diebenkorn, Matisse and Ivon Hitchens.
I asked Chloe when her work started to become more abstract and it was in 1999 when she started studying with Robin Child. "I love abstract painting and much prefer it to a more figurative approach," she said.
Chloe always paints for herself and never knows what shape a painting might take. In an ideal world she would paint five days a week, but this is not always possible. If she is out of her studio for too long she says she gets twitchy and yearns to start work again.
"I am very selective and will leave canvases hanging for ages until I am completely satisfied that they are finished and I am happy with the end product," she said.
Each canvas is built up with layers of paint with a minimum amount of four layers. If one area of a painting doesn't work Chloe repaints the whole canvas rather than just that particular bit.
Large canvases are painted as a whole, not area by area. "I love painting on a large scale and paint with long-handled brushes which measure 17 inches, including the bristles,". These brushes are used even on her smaller works.
Chloe enjoys doing flower pictures although she does not produce that many and often, if she thinks they don't look right, she turns them into an abstract piece.
She always has music or the radio playing in the background of her studio: "I don't necessarily listen to what is being said though," she remarked.
Chloe seems to be charmingly unaware that other artists are influenced by her work but said she finds that other artists are always very supportive and kind.
Even though she gets a little apprehensive prior to exhibitions, Chloe is ambitious and does not shy away from new challenges. She explained why she has decided to move on: "I feel so comfortable with Cricket Fine Art but thought I should stretch myself further; without ambition one cannot be successful."
We will miss you Chloe.